Technology is ever evolving, and it can be difficult for businesses to stay on top of best practices in this fluid technological environment. By partnering with National OnDemand, decision-makers from multiple commercial segments will benefit from our commitment to our craft. Our highly trained and certified team members are continuously absorbing new industry information. Even our veteran team members are required to stay updated on their certifications. But what really sets us apart is our availability. We take our motto "Anytime, Anywhere" to heart by providing proactive communication before the project begins, during execution, and after the project is complete.

Broadband Technology
National OnDemand is a leading provider supporting Multi System Operators throughout the United States. We help our clients and their residential and commercial customers by providing new installations, upgrades and service calls for digital cable, high-speed internet, digital voice, alarms and more. Our broadband technicians not only are certified and trained to perform the work, but also strive to provide the best personal customer service while working as a guest at the customer's home.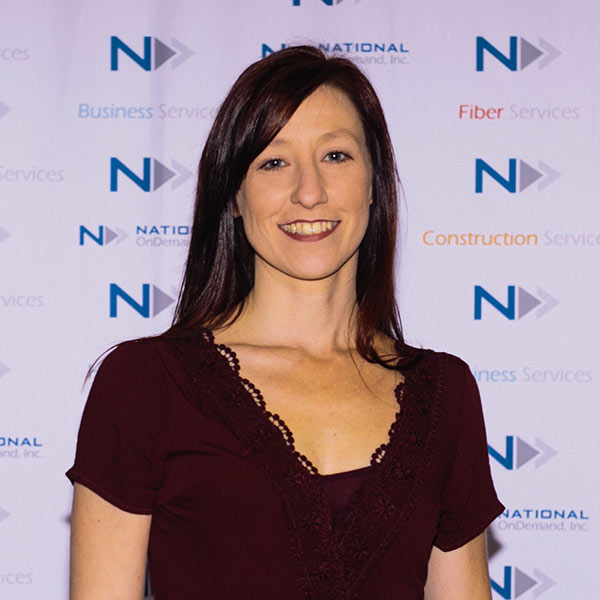 "The most successful technician is not one that knows how to do an installation backwards and forwards. The most successful technician is one who can do the installation work well, but can also speak and work with a customer really well, every day."

Renee Thomas, SVP of Operations – Last Mile Division

Network Services
Clients who utilize our approach to commercial networking services will benefit from having a complete system of cabling and hardware, providing a comprehensive telecommunications infrastructure for their project. Because every situation is unique due to variations in structural architecture, the intended function, selected equipment and customer requirements, we work together with the client to design a customized network solution that is consistent in its design and installation, meets the client's need, and takes future expansion into account.

Service Offerings
LAN/WAN  Structured Cabling Design & Installation – Full spectrum of cabling including copper, fiber and coax.
Wireless Network Design & Installation – Provide upgrades, optimization and new wireless installations of enterprise wireless (WLAN) networks.  Solutions include in-building and outdoor wireless solutions, point to point, and point to multipoint wireless systems
Hardware/Software Sales and Installation
Network Mapping
Network Organization / Clean-up Solutions

Service Solutions
Data
Voice
Audio – Visual
Video
Wireless

Security Services
Keys are a thing of the past. Advanced access control systems can be employed to track movement in and out of your building, or even within restricted areas inside. Best of all, such systems can be integrated into the existing network infrastructure of the building. That can equate to big savings by eliminating additional hardware just to run the security system.
Protecting your business is our business, so when we deliver our proposal to you for securing your premises, you can be sure that we're recommending the very same quality equipment and monitoring that we use for our own buildings. With just your internet connection, you can enjoy access to your security controls 24 hours a day, 7 days a week.

Intrusion Solution
Thermal Perimeter Detection
Monitoring Service

Access Control
Access Control Systems
Managed Services

Video Surveillance
Video Surveillance Solutions
Monitoring Service

Fire Detection
Fire Detection Systems
Monitoring Service

Best-Suited Client Segments
Commercial
Industrial
Data Centers & Mission Critical Facilities
Manufacturing
Distribution Facilities
Financial
Retail
Education
Religious
Hospitality
Healthcare
Federal Government
City, State and Local Government
Housing
Professional Office Buildings
Commercial Developers
---
Operating Divisions
National OnDemand delivers industry leading expertise providing full turnkey solutions that are comprised of our four operating divisions: Engineering, Construction, Last Mile & Training Centers.