Introduction to the Fiber Splicer Role
Fiber internet is becoming one of the fastest growing utilities in the United States. As federal and state funding continues to increase, fiber investments are projected to increase by billions for the telecommunications industry. With this, the need for fiber installation and maintenance will rise.
One of the main roles that contributes to installation and maintenance is the fiber splicer. Fiber splicers connect fiber optical cables together, passing signal from one location to another. One practical use of fiber splicing is to support existing networks by adding or maintaining connections to homes and businesses.
Looking for the intersectionality between science and telecommunications? The fiber splicer role may be perfect for you. Continue reading to learn more about the position and National OnDemand's training program.
Responsibilities of a Fiber Splicer
Fiber splicing can be described as preparing fiber sheaths, splice and test individual fibers and properly dress and secure fibers within fiber optic enclosures. Expanding networks is the primary function of fiber splicers, although they also can repair severed connections if the situation arises. Due to this, the workplace as a fiber splicer is constantly changing although primary work is completed outside.
As a fiber splicer, you'll need to be able to:
Operate a bucket truck as well as other equipment related to aerial fiber construction
Proficiently prepare and splice all sizes of fiber sheaths in an aerial as well as underground environment
Properly use fusion splicers, OTDRs, optical power meters and all tools necessary for preparing and splicing fiber
Read and interpret fiber matrices
Update and maintain fiber matrices
Perform mid sheath fiber entries
Perform safely and matching OSHA-guidelines
These tasks are typically completed with minimal supervision in time-sensitive situations. We are helping connect people to the services they need after all!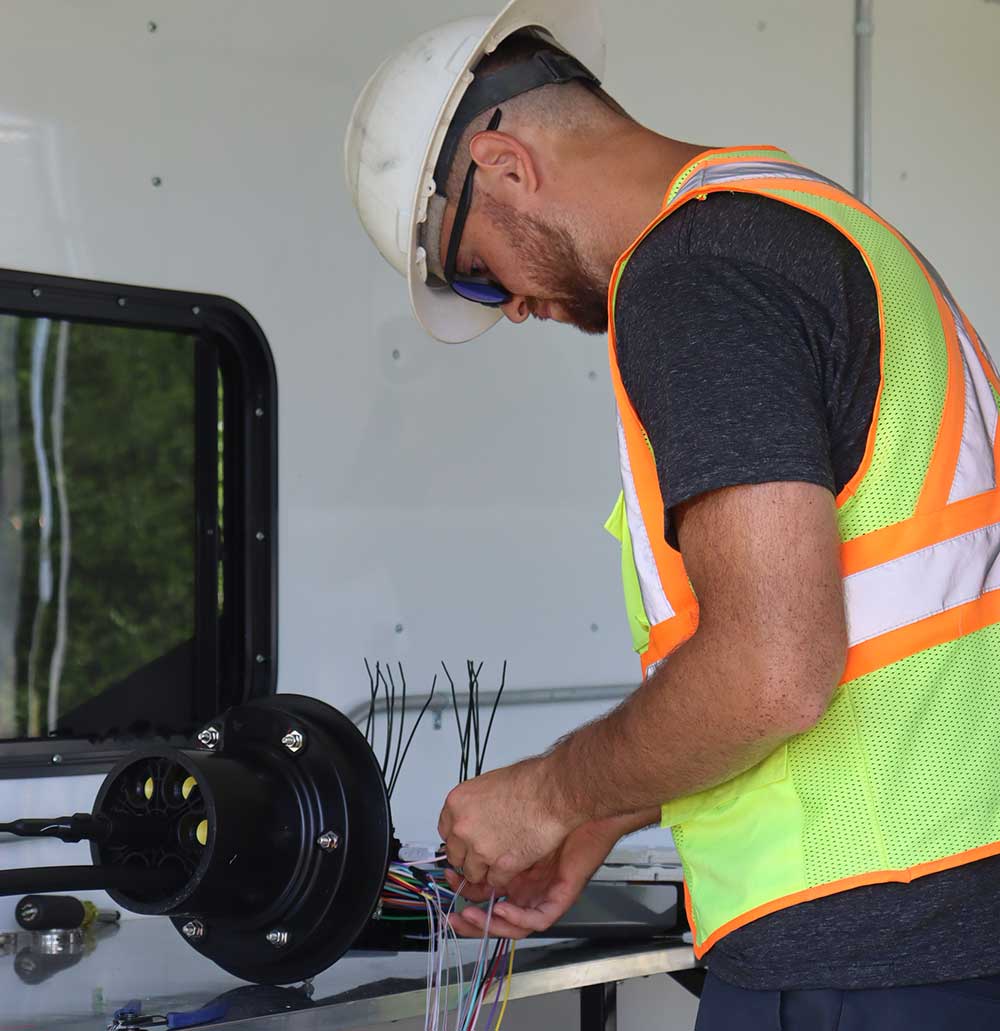 National OnDemand fiber technician splicing 144-count fiber for an infrastructure project near North Zulch, Texas
Fiber Splicing Training
Interested, but don't have any previous experience? Not a problem. We have the perfect program for you. Our fiber splicers are leading professionals in the telecommunications industry. Our training program acts as the catalyst to facilitate rapid growth in our splicers, turning inexperienced and driven people into top-of-the-line splicers in just a few short weeks.
Director of Operations, Construction Division John Schieler said National OnDemand previously hired experienced splicers to fill the role. Schieler realized the time to train experienced people out of their bad habits was equivalent to the time it took to start someone from scratch. He said, "anyone can be a fiber splicer, but a [National OnDemand fiber technician] is a different story." He and Steven Kotalik, Fiber Splicing Supervisor, Construction Division, drafted a thorough curriculum fit to educate anyone determined enough succeed in the role.
The training program breaks down and teaches the day-to-day responsibilities of a fiber splicer, beginning with the role's fundamental tasks. Kotalik said for the first week and a half, candidates get acclimated with tools of the trade, putting brackets onto poles and learning to climb. Simultaneously, candidates learn how to break cable down, all under the watchful eye of a more experienced supervisor, ensuring that each candidate is practicing the proper, safe way of completing their tasks. Supervisors at all levels engage in a mentorship-like relationship by having regular check-ins with each of the candidates, helping them progress through the curriculum. As each candidate becomes more familiar with breaking down cable, they move onto splicing. After two to three weeks, they are sent out on their own. Beginning on smaller cables, candidates in the program check their skills and knowledge before progressing onto the larger cables.
James Moore, Fiber Splicing Technician, Construction Division, detailed his experiences with the training program. Originally a QC inspector, Moore was offered and accepted a role as a fiber splicer. He said that he learned "a lot of different systems," as well as significantly developed his process for troubleshooting issues.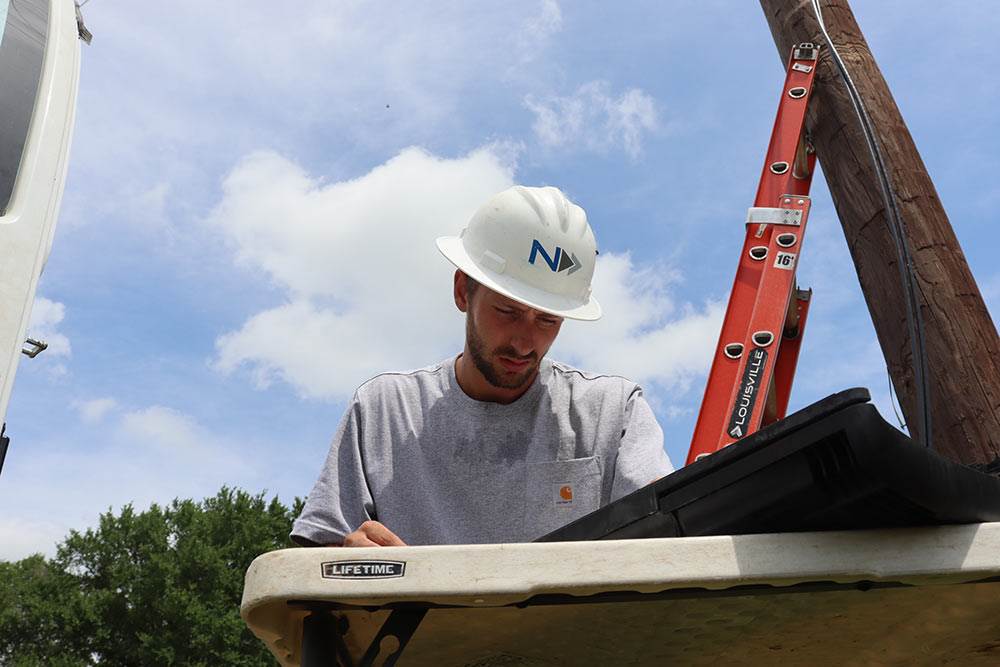 James Moore, fiber splicing technician with National OnDemand marking a tap after splicing in a 12-count fiber cable.
Britney Rider, Fiber Splicing Technician, Construction Division, said it took her two to three months to develop a firm, applicable understanding of the role. She explained a difference between knowing how to build in the role versus a genuine understanding of how the systems functioned. Rider described the feeling of overcoming these barriers as 'solving a problem,' which made her feel proud. She said her greatest moments, though, came from helping restore people's internet.
Schieler noted that National's training program looks to not only train people for the job, but also equip them with the skills they need to succeed. Skills like troubleshooting are intentionally built into the training process as well.
Job Security
As federal and state funding continues to be assigned, fiber optic networks continue to expand to support communities needing broadband services. High speed internet is a necessary tool for families and businesses as we progress through the next generation of technology. As a fiber splicer, you will directly benefit from this lucrative progression in the telecommunications industry by helping build, expand, or maintain fiber networks.
Benefits
Your qualifications, years of personal and professional experience, and even job-location will affect your general pay range. Your salary is predicted to increase as the need for fiber splicing is rapidly growing. National OnDemand offers a production bonus in addition to a base wage for our fiber splicers. The more active you are in your work and duties directly means the more you can earn.
When working in the telecommunications industry, you may expect to receive benefits that could include medical insurance, sick leave, and vacation days. While working for National OnDemand, you'll get all of the above while also receiving a company vehicle with a fuel card, tools and apparel, paid time off, disability insurance, free life insurance, dental and vision coverage, and an Employee Assistance Program.
National OnDemand believes in investing in its employees as they invest in us with their time and work. Our extensive benefits package enables our team members to live their best personal and professional life. The bonuses, insurance, and perks we provide our employees act as a concrete way to demonstrate how much we care about and value our team. Additionally, our company vehicles and fuel cards reduce out-of-pocket costs, to and from work. We are here to support our team members, Anytime. Anywhere.
Once you receive your first paycheck, you will be paid weekly thereafter.
Major Medical Plans - Blue Cross/ Blue Shield

Life Insurance* - $25,000

Employee Assistance Program*

Teladoc Program*

Vacation/Sick Leave/PTO
Vision

Dental

401K - Vanguard

Voluntary Short/Long Term Disability, Voluntary Term Life & AD&D

Company Vehicle and Fuel Card**

The Takeaway
Being a fiber splicer is a physically demanding and complex job. You need to have strong communicative abilities and critical thinking skills to perform your assigned duties successfully, as well as work outside in all weather. However, it requires no educational degree as we provide on-site training.
National OnDemand, Inc. prides itself on always maintaining high standards and prioritizing safety on every construction project. Join our network of talented professionals as we help customers looking for "cable companies near me." Set yourself up for a long and successful career with National OnDemand!
Current Openings
Fiber Splicing Supervisor
Danville, KY
Post Date: 08/02/2022
Fiber Splicer
Danville, KY
Post Date: 07/29/2022
Fiber Splicer
Pontotoc, MS
Post Date: 07/29/2022
Fiber Splicing Supervisor
Chase City, VA
Post Date: 07/21/2022